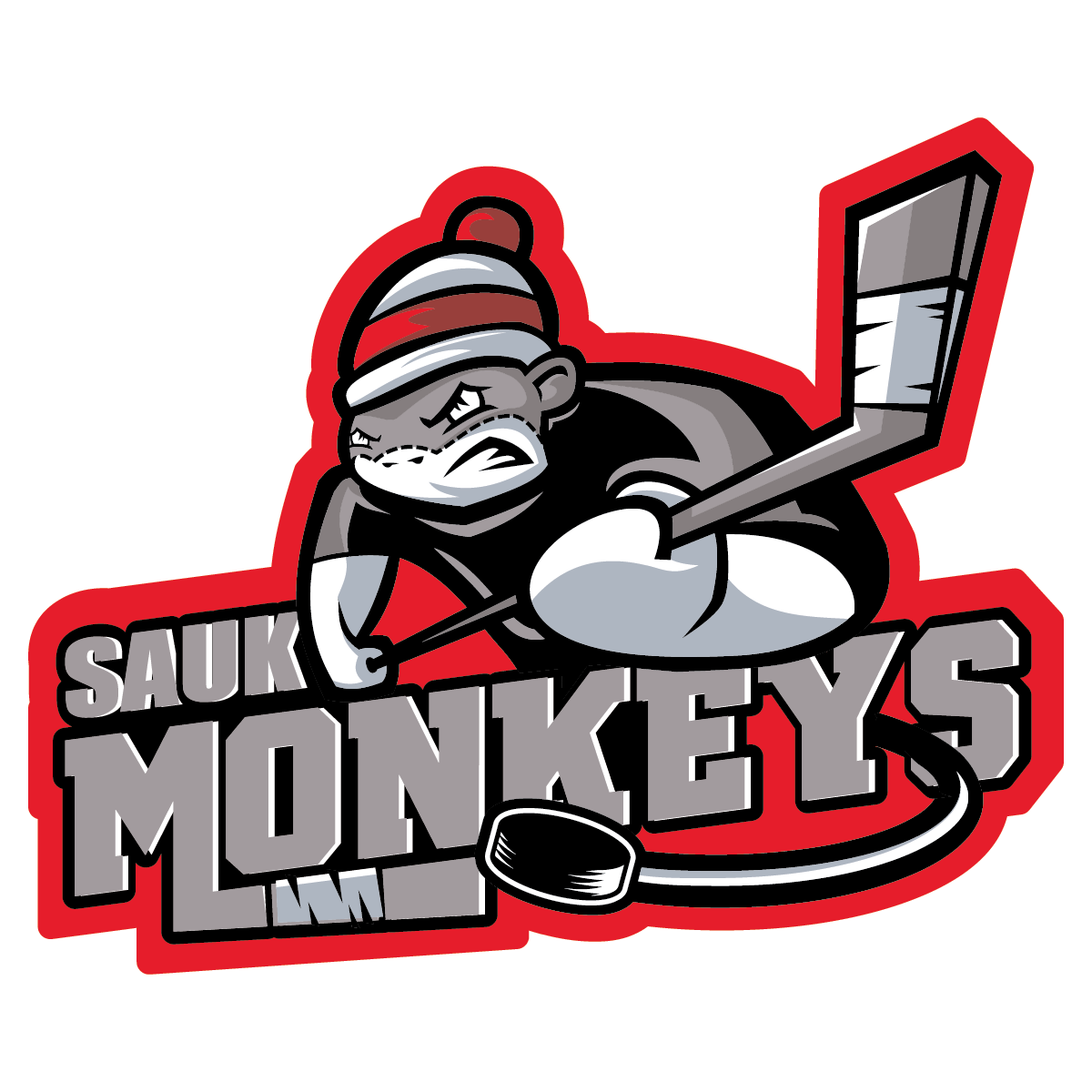 The Sauk Monkeys is a girls only program for the 10U and 12U age groups.
Multiple Player Discounts
Full fee for first player (oldest player), 25% off for next oldest player, and 50% for each additional player. It is free if you have never played hockey anywhere before.
The season begins with registration August 1st, tryouts in October, and runs through early/mid March.
Practices and home games will be held at the Sauk Prairie Ice Arena. A small number of practices and games may be held in Baraboo.
Teams practice 2-3 times per week (M-F) at the Sauk Prairie Ice Arena, and occasionally in Baraboo (Pierce Park).
Expect each team to play between 25 and 35 games (except 6U & 8U). Each team will have 12 home games. There is a possibility of more games depending on tournament play.
Hockey gear for 6U skaters can be rented for a deposit of $25 (check) for the winter hockey season. Once gear is returned in good condition at the end of the season, you will receive the deposit check back. If a skater has some of their own equipment, individual pieces may also be rented free of charge during the season. If you have any questions or concerns, please contact Tara Argall at trargall@uwalumni.com or Jason Teague at jteague4576@gmail.com.
There may be extra costs incurred throughout the season. Examples would be tournament entry fees. Fees are typically collected by the Team Manager.
Home/Away Jersey + Game Socks Package = $120
Additional Socks are $20/pair
Frequently Asked Questions

A: Hockey in the Sauk Prairie area survives in large part due to the tremendous support of families in the association that volunteer their time to keep things running. The majority of families will complete their required volunteer hours by working concessions at the Sauk Prairie rink. Volunteer hours can also be earned by working in the Concessions, cleaning the ice with the Zamboni, Coaching, Team Management, and Board Positions. You will have the ability to choose volunteer duties by clicking on Volunteer under your Account. The required hours for the year are 12 per family.



A: There is no mandatory fundraising for SPYHA members. Throughout the year SPYHA members will have opportunities to reduce future registration fees. These opportunities may include Scrips, and Little Caesars Pizza.



A: In some cases, your selections can be modified afterward. Just click 'Account' in the far upper left of the screen, then the Profile icon below the participant. If you cannot figure out how to make the necessary changes, no problem just let us know and we will guide you, or simply make the changes for you.


2023-2024
REGISTRATION OPENS:
AUGUST 1ST, 2023
LATE REGISTRATION BEGINS:
AUGUST 26TH, 2023
*There will be a $50 late fee accessed to registrations completed after August 25th.
Clinics:
More information to come...
Evaluations:
October 2nd - October 5th
Practices Start:
October 9th
Register